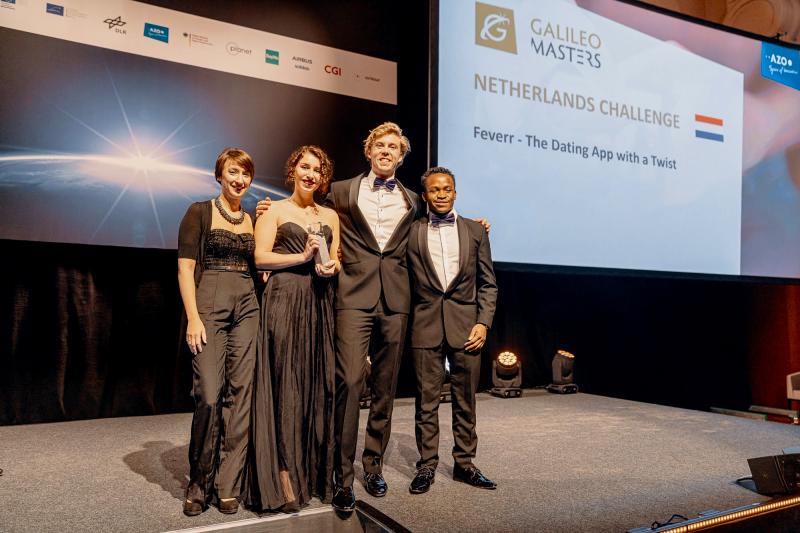 Feverr is one of the companies in the ESA BIC Noordwijk program that applies satellite navigation to surprising sectors: dating. Last year the won the Netherlands Prize (then called Challenge). What were their reasons to join, and what can we learn from them?

Co-founder Charlie Wulff and the team first didn't think of space when they created their business. But when they absolutely needed a safety component (because the app let's you meet people instantly), satellite navigation and geofencing became the space solution they sought.
Everyday situations
"We realized that space technology is applicable to everyday situations, even dating", Charlie said in the interview. "That's when we decided to join the Galileo Masters." And rightfully so. Whoever thinks dating doesn't have anything to do with space: the European Global Navigation Satellite Systems Agency itself addresses the accuracy of dating apps in a commercial:
By winning the Netherlands Challenge in 2019, "it helped us gain legitimacy, get press, and open up a network", Charlie recalls. Next to winning a nice cash prize, which was invested in the company, the startup was eligible for the ESA BIC Noordwijk incubation program as well.
Which doesn't mean you are automatically in if you win a challenge in the competition – you still need to apply and go through the entire process. It improves your chances though.

Curious about what you can do with satellite navigation? Want to compete with the brightest minds? Think you can start a space based business? And maybe even want to be in ESA's BIC program? Then apply before June 30!
---
SBIC Noordwijk, together with the Netherlands Space Office, is bringing you the Galileo Prize the Netherlands together with the following competition partners: