In a world where online dating is mainstream, it still has its flaws. How can space technology help people have better dating experiences? New ESA BIC Noordwijk startup Feverr has the answer.
At first, founders Charlie Wulff, Victor Bloem and Obrian Mc Kenzie wanted to create a dating app that lets people just meet without all the hassle of swiping and chatting.
Because there is a big problem when people are looking for love online: an enormous investment of time and energy followed by – often – disappointment. The average Dutch dating app user spends almost 40 hours swiping and chatting online before ever meeting anyone in person.

That's where Feverr comes in: you fill out your profile, and the algorithm matches you with a person who is close to you. Then it's up to you – if you both confirm the match you can immediately introduce yourselves in person at a meeting point nearby. Here you can talk for a few minutes, see if you feel any chemistry, and then decide whether you want to get a drink, exchange contact details or just leave it at that.
Space link
But when you think of dating apps, you don't immediately think of space. And that was also true for Charlie, Victor and Obrian. "We hadn't made the connection at first. But when we came across the issue of safety, which is what every dating app wants to guarantee, using space data made a lot of sense", said Charlie.
Here's how: first, the obvious space link is in geofencing. A match happens only when people are in certain areas or within a certain distance of each other.
Then, rather than letting matched users choose a meetup location themselves, the app guides the two lovebirds to a safe place to meet via the safest route possible, using a new technology called Safe Navigation. For example, users are guaranteed to meet in public spaces and can avoid seedy areas, which is especially important at night. "We realized that space technology is applicable to everyday situations, even dating."
That's why the startup entered the Galileo Masters in 2019. And with success: the business potential and space link of Feverr was awarded the Netherlands Challenge prize. How's that for a start?
So what makes a meeting place or route safe? Right now, Feverr is in the process of applying for a patent, so the team cannot share specific details of the technology and algorithm.
Business model and goals
Like most dating apps, Feverr uses a freemium business model. Users of the app can use it for free, and pay for additional features.
Victor: "Right now, we are testing the beta version to launch it on Valentines Day. Then we aim to partner with festivals for instance. Our long term goal is to become the next big dating app in the world."
Charlie adds: "And to get people off their phones while using dating apps. We want people to spend more time actually meeting each other and less time staring at their phone screens."
Why ESA BIC?
Why did Feverr chose to be in the ESA BIC Noordwijk program? Charlie: "We came here for the technical support. We have a lot of plans with our safe navigation solution, but we don't have a lot of experience with satellite data. In The Netherlands, this is the only place where we can get this kind of technical help. So you can consider it a strategic move!"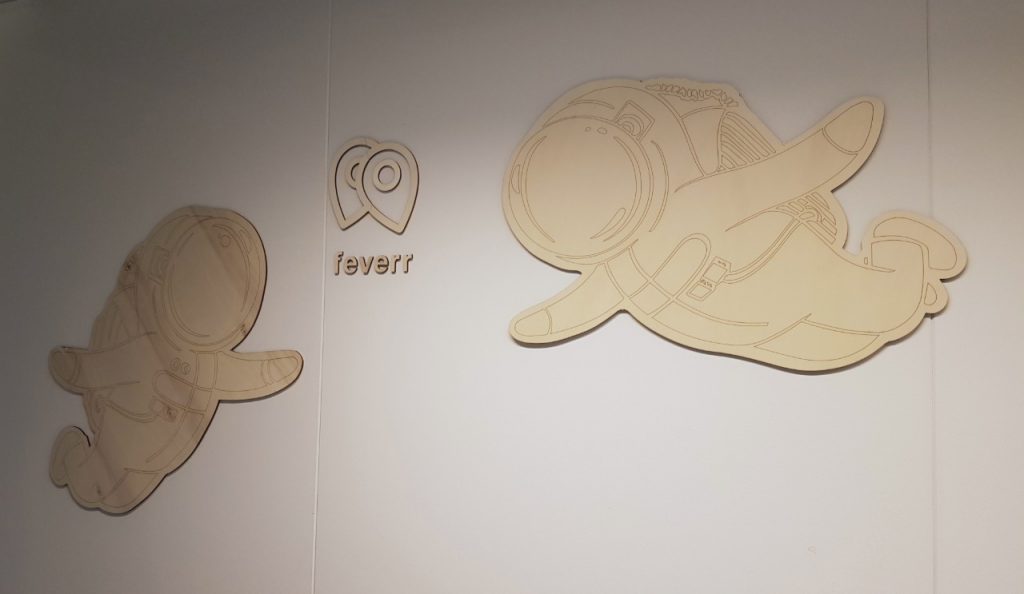 Experience in the space sector
Although the company has only spent a short time in the space sector so far, the founders have already noticed that there's a lot of support in general – whether in the form of subsidies or people just helping out.
Victor: "We talk and listen to as many people as possible, so we can learn from them. Our team has a business background so we profit from the technical expertise around the BIC. And it works both ways: we can give advice to them too. That interaction is just really nice."
Charlie: "If there's one thing we immediately found out: space is so much more than you think. I think we are the perfect example of that."
Feverr is preparing for their next steps. First, an official launch of the beta version of their dating app. On Valentine's Day, of course. Next to that, the company is looking for funding to grow.