LIFT OFF YOUR BUSINESS
SBIC Noordwijk supports spacetech startups
We offer various programs, workshops and events for every stage of your entrepreneurial journey 
ESA BIC STARTUPS
OUR COVID-19 MEASURES
LIFT OFF YOUR BUSINESS
SBIC NOORDWIJK SUPPORTS SPACETECH STARTUPS
We offer various programs, workshops and events for every stage of your entrepreneurial journey
SPACE TECHNOLOGY FOR APPLICATIONS ON EARTH
SBIC Noordwijk supports startups which use space technologies by offering access
to an international network, tools, knowledge and finance.
First-class partners
Together with our national and international partners, we help entrepreneurs to transfer technologies or data from the space domain into successful terrestrial businesses.
10+ years experience
We have over 10 years of experience inspiring entrepreneurs and supporting startups. In that time, we have successfully incubated more than 100 companies and inspired many more people to become entrepreneurs.
Lively business community
We empower your entrepreneurship by matching you with relevant parties. Join our community and start building your network!
What we do
The Space Business Innovation Centre Noordwijk supports entrepreneurs and startups that want to launch or improve a product or service that makes use of space technology.
Our most important activity is the ESA BIC incubation program.
But we also host networking events, facilitate workshops and organise (international) hackathons and idea competitions.
Space technology for earth
Space technology is leading-edge technology with very high standards and reliability. These characteristics give it a unique selling point for application right here on earth.
However, it is a challenge to move from the initial idea phase to the development of a successful startup company. This is why we and our key partners support the creation of your new businesses with financial, technical and business support.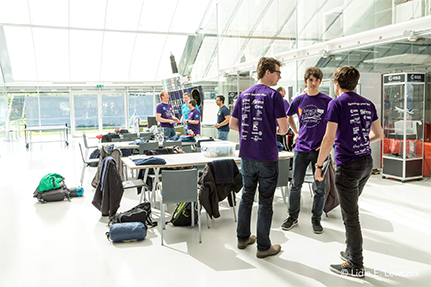 Join the ESA BIC program, apply today!
Give your space-based business the edge it needs to beat the competition. Sign up for the ESA BIC Program.
Meet our latest community member, designer Wendy Mensink from Void Visual.
read more