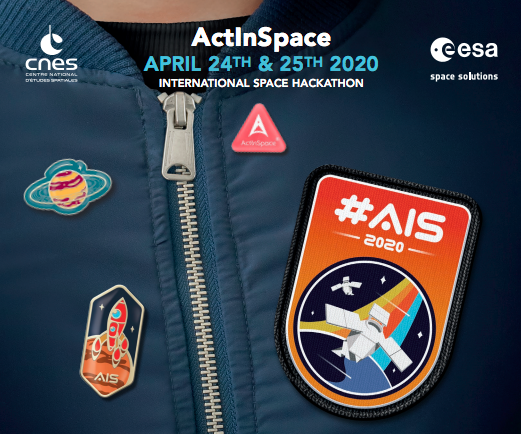 ESA and CNES have decided to postpone AIS 2020 this year due to the Covid-19 virus.

They are working on a plan B. The hackathon will probably be organized in the first weekend of October, and the final in December.

Want to test your entrepreneurial skills? Literally broaden your horizon? And find out how the world of space can help daily life on earth? Well then, on 24 & 25 April 2020, SBIC Noordwijk and PLNT Leiden will once again host the Netherlands challenge of the worldwide Act in Space contest.
Challenges
There will be plenty of worldwide challenges to hack, create, ideate or build a solution to, submitted by the industries' top companies and institutions. They are all space based, which means you make use of space technology, data, patents and/or infrastructures.

Challenges are global, but are executed locally. So it's up to you to make your region stand out from the rest of the world!
The applications open on February 29 – so you'll have enough time to delve into the different challenges.
Leiden: a lovely location
This year's location for the Netherlands is PLNT Leiden, an entrepreneurial hub which also houses the Venture Academy, a startup accelerator. SBIC Noordwijk will be co-organizing this event. There will be mentors to fuel your brain, food & drinks to fuel your body, and an inspiring atmosphere to fuel your ambitions!
Prizes
Each region has 4 prizes to hand out. The Netherlands main prize will be a spot in SBIC Noordwijk's Ignition Program (worth 1000 euro) – which helps validate space based businesses. The prizes will sponsored by our competition partners ESA Space Solutions, Netherlands Space Office, NVR, Zuits, Rabobank, HE Space, ANWB & V.O. Patents & Trademarks.

Winners of each regional challenge will go to the Grand Finals in Toulouse and have a chance to win a zero-gravity flight!
So, what are you waiting for? Admissions are open now! Choose a challenge to be working on:
Or register directly (choose The Netherlands!):
Act in Space 2020 has been postponed. Expect more information soon.
Act in Space 2020 is made possible by the following international partners: ESA Space Solutions, CNES, Aerospace Valley, Airbus, SES, AirZeroG, CLS, Kinéis, Continental, WEkEO, European Business Angel Network (eban), Suez, the city of Toulouse, and the European GNSS Agency (GSA).