After 24 hours of tireless work, and another month of nail biting, we finally know which team has snatched away that amazing main award in ActInSpace 2018: Wright Team Incorporate from Australia won a seat on a parabolic zero-G flight. Their idea: a blockchain-like algorithm that creates a universal standard for identifying and tracking drones.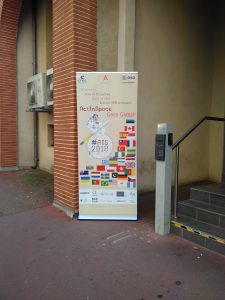 The semi-finals
Teams from 26 countries gathered at the Toulouse Business School on Wednesday morning 27 June to deliver their final pitch to international juries in 5 semi-final groups. Of course, the pitches were based on the work done during the 24-hour event in May, but the teams had been allowed to continue working on their idea, and it showed! Technologies and business plans had been developed down to a tee, and some teams even brought live demos and prototypes.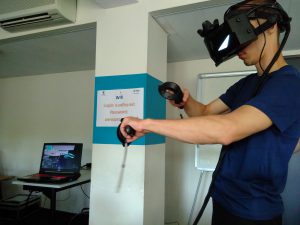 The finals
After a fancy cocktail-lunch at the Toulouse Space Show, the 5 finalists were announced and put on the spot immediately to re-do their pitch in front of a 500-member audience!
The other finalists were:
Lycie from France – a smartphone app for safer driving
InsertSpace from Singapore – a cheap, 3D-printed thruster for smallsats
Ingeco from Colombia – a water filter for mercury based on an ESA patent for a rocket fuel filter
SpaceTree from Estonia/Latvia – a monitoring system for forestry based on Copernicus data
This meant that the Dutch finalist, Team Graviters, did not get to pitch their space mirror solutions for solar farms to the main jury. However, the team does get to further expand its idea in the Venture Academy, offered by our organizing partner PLNT.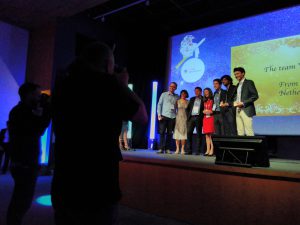 One team that did get to give a special pitch in Toulouse was Team Underage, a very confident group of high school students from New Zealand that had impressed their local organizers with their augmented reality app to such an extent that the New Zealand Space Agency had agreed to sponsor their trip to Toulouse, to allow the world to see the strength of their idea. The teenagers definitely did impress, and we hope to see them (and other young (and older) talent) return to ActInSpace in 2020!
Afterparty at Cité de l'Espace
While participants changed into festive attire, the main jury deliberated and ended up picking the Australian team as a winner. During the award ceremony, several other special prizes were handed out, such as the Audience Award, the Women Entrepreneurship Award, and the Space for Humanity Award.
We were very proud to encounter another Dutch winner in the special prizes category: Team Vindo won the FabSpace Prize with their application for finding livable cities.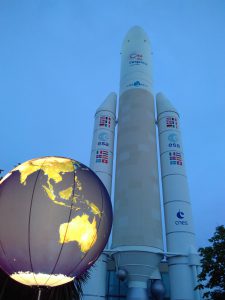 When all the man-sized vouchers had been handed out and group pictures taken, the participants got on a bus and were transported to Cité de l'Espace, the French 'Space Expo', where the end of a very successful global event was celebrated with drinks, snacks and music underneath a live-sized model of the International Space Station, while the sun set behind Ariane 5.
What a way to end a world-wide space event!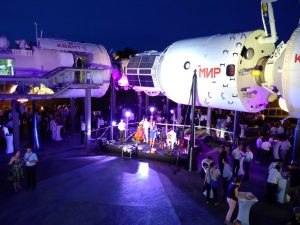 ActInSpace the Netherlands was supported by:
ActInSpace is supported by: