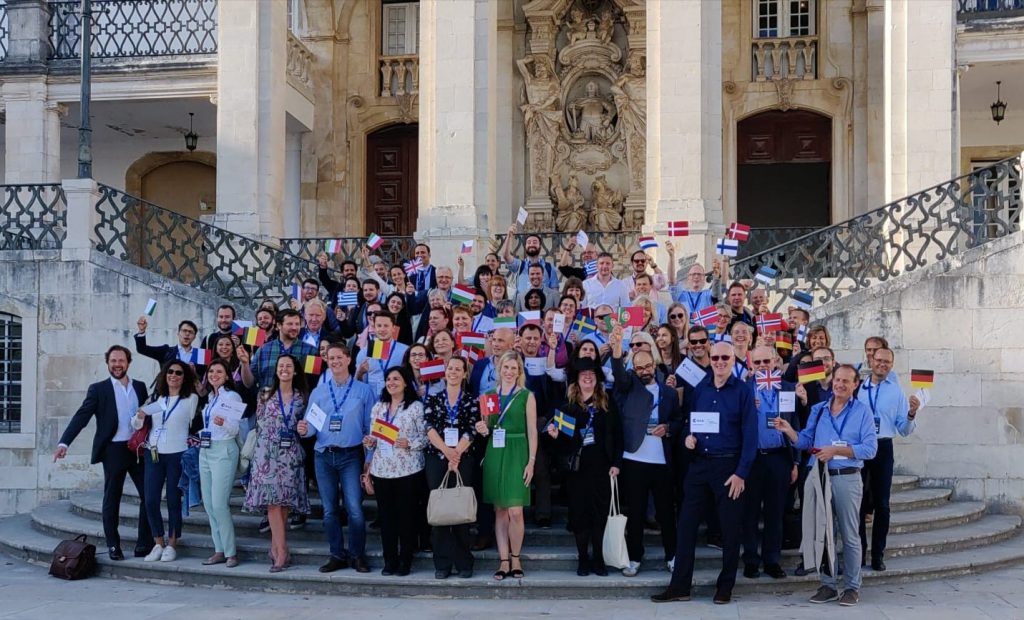 Every fall ESA Business Applications, ESA Space Solutions, ESA BICs, Technology Brokers and Business Ambassadors from all over Europe meet to network and learn from each other's cases. What experiences will Martijn en Lorenz bring back to Noordwijk?
This year ESA BIC Portugal invited us in its beautiful hometown Coimbra. This place hosts one of the oldest universities in Europe. Learning something new truly is part of daily life here – student culture is ingrained in local lifestyle.
In three days, ESA BIC Noordwijk met with our peers in inspirational places such as a science museum, university libraries and ancient monasteries. So what better place to talk space business, than a city that celebrates curiosity and welcomes wisdom like Coimbra does? No wonder this Portuguese treasure is in the race to be cultural capital of Europe in 2027.
#SpaceAtCoimbra pic.twitter.com/JY2OSclyDP

— ESA BA UK Regional Ambassador NW & North Wales (@ESABA_NW) October 1, 2019
New name for our growing European network
Well, what did we learn from our trip to Portugal? First, you might have noticed a something new in the title. BASS? What's that about?
In short, it's the new name for the combination of ESA Business Applications & ESA Space Solutions (where the BICs are part of). It will mostly be used to address all the entities as described above. For us it means convenience. The "BASS" network certainly is a shorter way of saying "ESA Business Applications, ESA Space Solutions, ESA BICs, Technology Brokers and Business Ambassadors"!
@franksalzgeber, Head of Innovation and Ventures Office @ESAbusinessapps & @Space4Europe, launches our Network Session.#spaceatcoimbra pic.twitter.com/qytzuvznHO

— ESA BIC Portugal (@esabicportugal) October 1, 2019
Lean mean content sharing machine
We always ask all members of our space community (startups, alumni, partners, coaches etc.) to share their stories like updates, milestones, job openings and own blogs.
We now have an extra reason to do so: ESA BASS is looking for those pieces of content as well! In their new content marketing plan they are aiming towards a continuous stream of stories to publish. Just how we like it! So, another reason for YOU as well to send your updates to us. We will take care of the rest.
Adding value for partners and European ESA BIC startups
Not only do we want the best for our BIC, we also make efforts to extend our network for the benefit of other BICs in Europe. Our COO Martijn presented an idea for the European BIC community: how about working together with a SBIC Noordwijk partner?
Excited for the BIC session with all the BICs from Europe in this awesome geoscience room #spaceatcoimbra @Space4Europe @ESAbusinessapps pic.twitter.com/tzhbJKpjD1

— ESA BIC Noordwijk (@ESABICNoordwijk) October 2, 2019
Tekdelta for instance connects corporates with startups and vice versa. So we provided a plan for startups from the pan-European space sector to meet with Dutch corporates. Some had doubts, but other BICs saw it as a nice introduction to possible customers for their startups.
Learning from alumni
We'll end with a note of self reflection. Of course, every BIC is a bit different from the other. This means every BIC has its own challenges. That doesn't mean we shouldn't listen to what alumni from all over Europe have to say about the ESA BIC program in general.

In a separate BIC session three alumni from ESA BIC Switzerland, Germany and Estonia told us about their experiences. They gave all BICs valuable feedback. We'll be using that to improve our support!
So can't wait for next year, when another BIC will welcome the ESA BASS network. For now: obrigado, Portugal!
Thank you @francisca_eiriz @cdcerqueira & Alexandra for the amazing 3 days!!! ???#yourock #spaceatcoimbra #space2be pic.twitter.com/h4HV1VDciN

— Martijn Leinweber (@MA_Leinweber) October 3, 2019