Smallholder farms make up for a third of the world's food production. However, due to the climate crisis, millions of farmers worldwide eventually have a problem to face: how can we guarantee our yields and income? To tackle this problem they need insurance and access to finance. Agtuall uses earth observation data to help banks and insurance companies understand the risks, thus making the product delivery to farmers more efficient.
Agtuall is one of the startups in the Dutch business programme of The European Space Agency, ESA BIC Noordwijk. We talked to founder and CEO Vikram Sarbajna about his space related business.
What does Agtuall do and what problem does it solve?
Our main objective is to de-risk smallholder farmers. Smallholder farmers across the world are the most vulnerable when it comes to climate change. It impacts their production, and thus their ability to generate a stable income. Don't get me wrong, farmers know their land very well and they know what they're doing. Most of them can rely on intel that has been in their family for generations. But due to the climate crisis a lot of traditional methods are being challenged. You'll need to bring a lot of science when you start to ask questions like: "Is this the right crop to grow here?" or "It's getting dryer and dryer, am I going to use much more water because of this?" So smallholder farms need increased access to risk mitigation products such as crop insurance and access to finance to invest in smart agricultural practices (f.i. irrigation). This will help these smallholder farmers to prepare for the future.

Our ready to use platform is a SaaS solution for financial institutions delivering those products to smallholder farmers. They need to do a risk assessment for a piece of land or region before providing a loan or insurance – which can be very time consuming. Agtuall is making it cheaper and easier for financial institutions to understand the risks so they can roll out their products faster.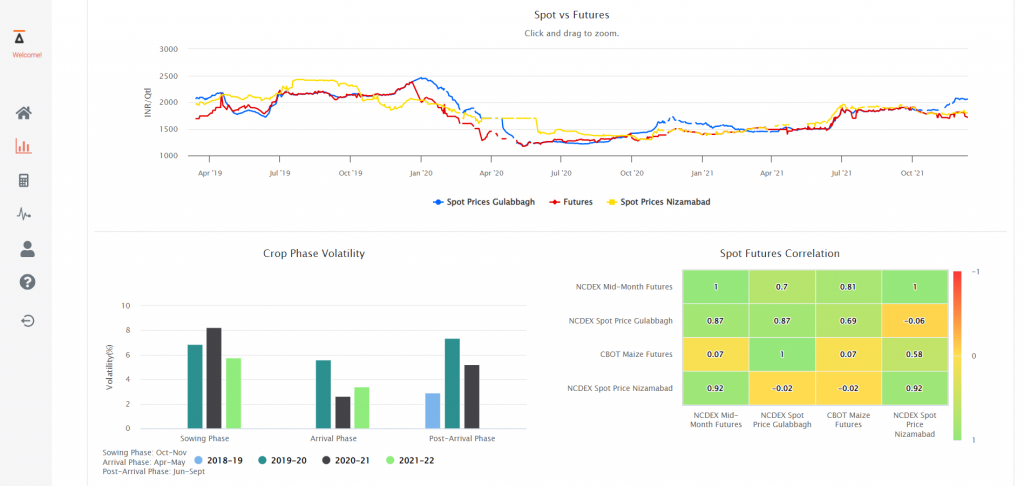 Why is it so hard to define risk in the agricultural sector?
The world of smallholder farmers is very 'data poor'. So it makes it very hard for financial institutions to understand the risk they are facing, when they give a loan to a region or farm. This is where earth observation data comes in. Using historical and current EO data we create a profile of the farm or region and categorize the risks it faces based on exposure to natural calamities. For instance, how disaster prone is that piece of land in case of heavy rainfall, flood, drought and so on. So basically we let our users know: how does the risk look forward? The profile is used in pricing a financial product and in case of insurance, claim settlement. We provide this information in a ready and easy to use platform for financial institutions.
How do you exactly define a risk?
Foremost, a risk is an event that leads to low yield. So we define the risk by looking at the impact of the event (such as floods) and likelihood of that event happening. To do this, we use earth observation data to measure a large amount of parameters (like drought, rainfall), and combine it with historical yield data as well (which goes back up to 15 years). We then create a score and put that in our platform.
How do you use that space data?
We use a lot of data from the Copernicus platform, from the Sentinel 1 and 2 satellites, and the matching processing tools. Sometimes we also use data from NASA and from satellites from the Indian space agency ISRO.
What are the main challenges in the agricultural business?
There's a huge gap and unmet demand when it comes to risk management products like insurance and access to finance for smallholder farmers. Because traditionally those financial products are geared towards large companies and other segments, like very small farming areas and/or remote areas. So there's a massive opportunity for technology. Alternative data sets like earth observation and remote sensing data can help financial institutions with both the scale of and differences within the smallholder farming industry. For instance, talking to thousands of very small farmers through traditional means, "boots on the ground", is not cost effective. Then, there's the average size of smallholder farms that's different throughout the world. In the US it's 179 ha, in Germany 59 ha, and in India 1.2 ha. So you cannot use the same approach in the US for India. And of course the financial products need to be fine-tuned to the farmer's needs and farming cycle.
How did Agtuall came to be?
I have worked at the Rabobank in the Netherlands before founding Agtuall. At Rabobank, I was involved in the design of decision support systems for credit underwriting. These systems were mostly designed for the large clients while I wanted to explore more technology applications for smallholder farmers. So, in 2018 I moved to India and spent about a year understanding the problems smallholders face from ground up. In 2019 I founded Agtuall (then called Credible) and now it's grown into a multinational team of 8. It's a mix of data-scientists, agriculture finance and insurance specialists.
What are your short-term and long-term goals?
We already have an operational team in India and have corporate customers who are using the insights we generate. In the short term we want to establish our base here in the Netherlands and get to better understand the ecosystem here, also through the SBIC Noordwijk network. In the long term we aim to deploy our solutions in multiple countries and create new products beyond traditional loan and crop insurance. We have forged strong partnerships with a few development agencies who want to support us in this journey.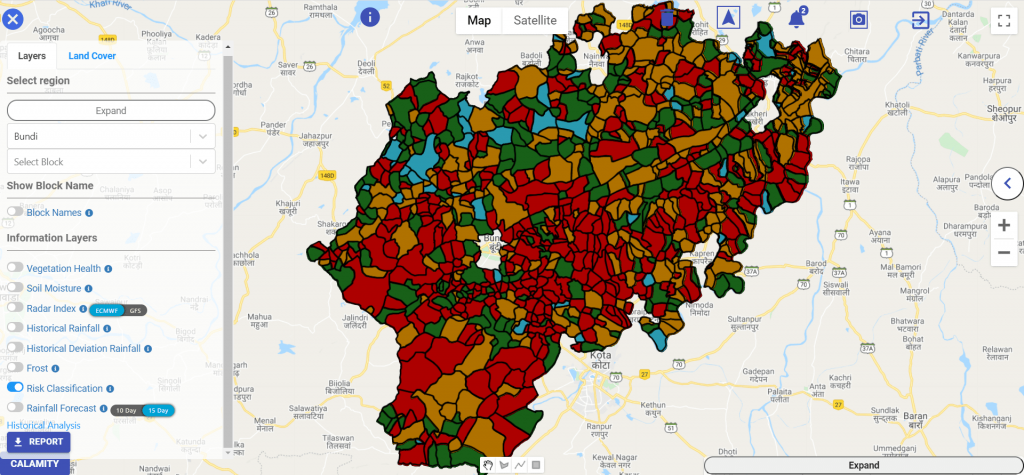 Are there some other milestones you would like to share?
We're proud that in India our products are already used to assess and monitor crop insurance products for around half a million farmers spread across different states.
Why did you choose to be incubated in the ESA BIC Noordwijk programme?
We are pretty good at data science and understand the business domain. However our EO skills can be improved. Creating EO insights for smallholders' farmers is tricky (the farm size difference, multiple crops etc). I was looking at institutions that could help us in this area, that could provide us with advice on further development of our technology. I got in touch with the regional development fund InnovationQuarter and they helped me in identifying SBIC Noordwijk as a potential place to start. After a talk with Martijn Leinweber (COO of SBIC) I realized the ESA BIC programme is much more than only technical help. The financial support is definitely welcome but I think the true value is in the community and the events.
Next, our target market right now is India, but we are expanding to other markets – which triggered our move to the Netherlands. It's an agricultural hotspot, so all considered, it's an excellent base to move forward.
What can you tell us about your team?
Our team is an excellent mix of hardcore technologists and domain specialists – a solid mix of experience and executional skills. My experience at Rabobank helps enormously, and similarly we also have someone who has worked at GIZ (the German development agency) who understands the needs of smallholder farmers. So it's a good mix of experience and executional skills.

What's your secret ingredient?
The idea of using earth observation for credit scoring and risk assessment is not new – it has been around for at least 5 years. But there are not many working examples in the world. We can create momentum because we are strong in the execution of our ideas. We like to say: "Execution eats strategy for breakfast." We have already created an operational platform and already work with partners. It's ready to use, and easy to use. Zero remote sensing knowledge is necessary. As a tech company, we like to make things as easy as possible.
What advice would you like to give to aspiring entrepreneurs?
Ideas are plenty and you should do your desk research before jumping in. But I would say you should validate and build fast. The sooner you get customer feedback the better. Because when you only start working from an idea, the reality always is more nuanced. Don't dwell too long in 'paper mode', go to 'do mode' as soon as possible. Secondly, don't hesitate to ask for help and – in case of the ESA BIC Noordwijk programme – engage with the community. It's a cliché but you cannot solve the whole problem on your own. You have to collaborate, so the sooner you discover these people/companies who share a similar goal, the better. Sure, covid has been tough but that doesn't stop you from sending messages to each other.
How would you describe your team synergy?
Due to covid and remote working we hardly get to meet face to face anymore. As a startup, it's crucial to have a lot of personal contact. So we started to play a lot of online mystery games together. Our team, and this is an understatement, is very enthusiastic about it. Every other week we have a game to play. That surely gets our creative problem solving juices flowing!
---
Interested in becoming a space related business? The ESA BIC Noordwijk programme helps aspiring entrepreneurs with creating their prototype or market introduction with their solution. More info: