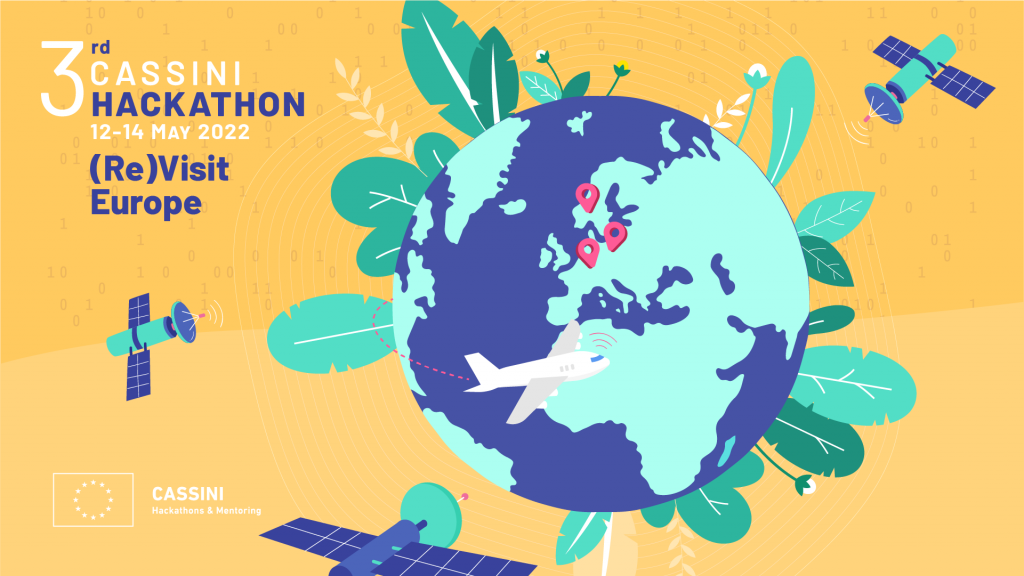 Each year, numerous European citizens travel across the continent to go on vacation. Most tourism, however, is concentrated in a limited number of cities and regions. In these areas, mass tourism is very important for income and employment, but also puts stress on the local environment and communities. Moreover, travel to and from Europe's top destinations depends heavily on airplanes, cruise ships, busses and cars. These modes of transport have a high carbon footprint.

With tourists becoming more aware of the travel impact on climate and seeking to travel more in a sustainable way, how can we better factor the climate impact when travelling, instead of relying on booking platforms and tour operators to provide us with the cheapest, best rated or most convenient options?

What if we could learn about the actual carbon footprint we have, find alternative destinations and modes of transport and change our travel patterns to reduce greenhouse gas emissions? What if we could do this while improving the travel experience and building economic resilience?
Space data to the rescue
Technology and data from space can help reduce the carbon footprint of tourism travel. European space data, like information and signals from Galileo & EGNOS (satellite navigation) and Copernicus (earth observation) are essential tools if we want to keep emissions in check. Before we dive into some examples, first some basics. How exactly can space data help? From the ESA website:
Satellite Earth Observation data (EO) (both SAR and optical) can be used to monitor and plan infrastructure (e.g. buildings, road network, parking lots, airports) as well as identifying visitors' patterns. SatEO can also be used to monitor land cover changes over time (e.g. in both rural and city level, wild habitats, forest, land, water, etc.).
Global Navigation Satellite Systems / satellite navigation (SatNav) is essential to track and trace tourists and search and rescue teams. SatNav can also enable visitor flow-monitoring and location-based services to geo-localise points of interest in the tourist maps and to enable geo-fencing and time-fencing features. In addition, GNSS receivers and sensors can be installed in the tourist sites to be used as complementary ground surface deformation measurement points to EO data.
And, more in general:
Satellite Communication (SatCom) is essential to ensure communications for any of the above data services enabled whenever the terrestrial communications are absent or not reliable. In particular, hybrid 5G space/ terrestrial communication networks may be required to support digital solutions e.g. in the field of mobile immersive applications.
Examples
What are some more concrete ways of making tourism more sustainable?

Carbon footprint measurement of travel
This sounds easy, but it's definitely not. Measuring the carbon footprint can be done in many, many ways. First, you might have to combine several remote sensing data sets to create certain 'before' and 'after' snapshots of touristic hotspots. On the other hand, there are some data sets you can interpret more directly, like data sets on the emissions of natural gases like methane. It all depends on what satellites are measuring exactly. Once you cracked the code, in for instance, a space hackathon, you can encourage sustainable tourism by offering tourists a map of their destination, showing the impact their visit has on the location.

Understanding travel patterns
When you use Google Maps to check out that trendy new bar, you often see how crowded it is at that time. And when you're driving trough a city you don't know, you probably use a navigation app. All that information wouldn't be possible without satellite navigation. In that sense, travel patterns and space data are a match made in heaven. You can use space technology to monitor tourism flows, to track new tourist paths, and/or to facilitate mobility in crowded areas. Like to think bigger? Maybe you can even gather travel patterns insights between cities or even countries.

Alternative destinations and/or modes of transport
Alternatives to the all-known and chewed out tourist attractions are necessary. For instance: use crowdsourced data from locals and connect these places by using satellite imagery to create an eco-heritage trail – like is done here in Malta. Speaking of heritage: there are lot of examples on how space tech helps the preservation of and tourism flow at cultural heritage sites. Still can't wait to see the Eiffel Tower? At least find a sustainable way traveling there: combine open CO2 emission data sets of available travel types with satellite navigation.
Discover disruptive travel concepts
And of course, there's even more untapped potential here. The CASSINI Hackathon this year focuses on tourism and space and is looking for creative minds – people that want to discover all the possibilities. The challenge "FINDING SUSTAINABLE DESTINATIONS" is specifically designed for you to develop innovative ideas or design new products or services that reduce the carbon footprint of tourism travel. Everyone with a passion for tourism and/or space is welcome – no space experience required. We are there to help you with that. Are you up for the challenge? Then register for the CASSINI Hackathon The Netherlands in the weekend of May 12 – 14. Register before May 11, 5 PM CEST.
---
SBIC Noordwijk is the local organiser of the CASSINI Hackathon the Netherlands. Our main partner this edition is Sunweb Group, one of Europe's leading travel agencies.
The CASSINI Hackathon The Netherlands is also made possible by our competition partners ANWB, ESA Space Solutions, HE Space, Netherlands Space Office, NL Space Campus, NVR, Rabobank and Zuits.