There are not many people so well connected in the international space industry as Remco Timmermans. That's why we are excited to announce that he has joined our community. Let's get to know Remco: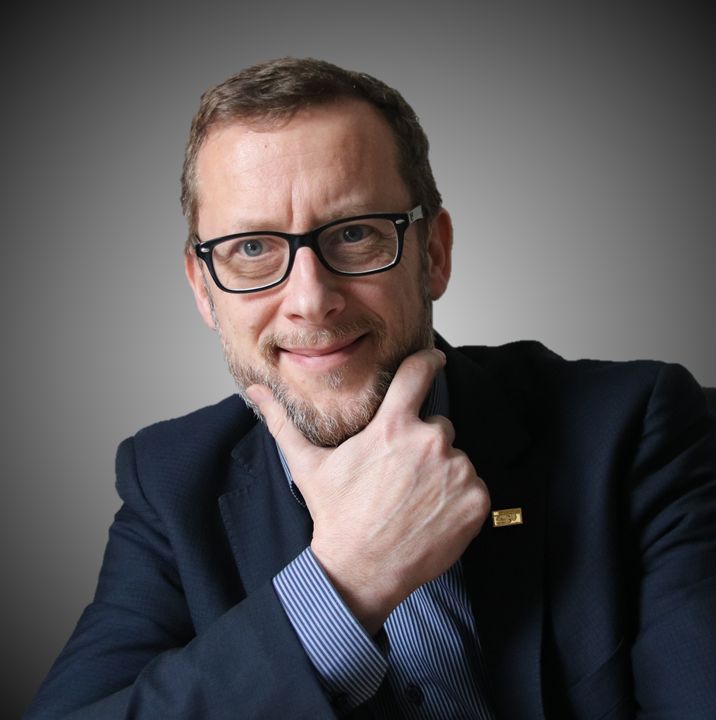 Can you tell us something about your business, SpaceSide?
SpaceSide OÜ is a media company specialised in social media for the space sector. In this company I design, implement and run outreach and marketing campaigns for clients in the space industry.
The company is registered in Estonia, but I mainly work from my home office in Harwell, Oxfordshire in the UK. Because of Brexit, I've chosen to register my company in Estonia, so I can better serve my clients in the EU. Estonia offers e-residency, which makes it possible for digital nomads or anyone in the world with an international mindset to very easily start a business in the EU. You can compare an Estonian OÜ (osaühing) to a Dutch 'BV'.

What can our community approach you for?
I'm specialised in online marketing and outreach, with the emphasis on the use of social media, for clients in the space industry. Additionally, I do a lot of event campaigns (eg. for conferences) and I write social media strategies.
My clients are commercial companies as well as NGOs, universities, governments, and small businesses like startups. I'm specialised in the European space program, especially in earth observation, but also work for very cool NewSpace companies. I do social media training for startups, among others for the ESA BIC community.
In past years I've also given workshops and webinars to students and young professionals about building a career in the space industry. I happily activate my network to promote and find mentors and coaches for professional networks in the space sector like several SEDS branches, the Space Generation Advisory Council and mentor networks of UNOOSA, but also for the International Space University, the Nederlandse Vereniging voor Ruimtevaart, Stichting Space Professionals and the British Interplanetary Society.

What do you think of the SBIC Noordwijk space community?
SBIC Noordwijk manages the first ESA BIC in Europe, and has proven to be one of the most innovative communities within the BIC network. I don't know any other BIC that organises this many activities and so explicitly building an active community. I think this community is an important reason for entrepreneurs to choose an incubation program in the Netherlands. I don't physically work in The Netherlands myself, but I keep in touch with the network of ESA BIC Noordwijk incubatees, alumni and SBIC staff. The pre-COVID (and hopefully post-COVID) network events for me were reasons to regularly travel to Noordwijk. Through these events I stay up to date on what's new in the Dutch space startup scene, and I get to meet business partners and new clients.

Why did you become a community member?
There are two reasons. First, because the SBIC community helps me in my entrepreneurial journey, by letting me find new partners and leads. If you're self-employed like me, it's of utmost importance to be part of a network of complementary service providers. This network ensures that you can handle a variety of projects, together with other entrepreneurs.
Second: I like to have a base in the Dutch space scene, a place to work when I am in the country, and a place to meet people. I might not live here anymore, but my roots are in the Dutch space industry, so I like to retain that connection through the SBIC community.

What do you like the most about the world of space?
There's a lot I like about space! I'm a space geek, always have been, but I'm a late entrant to the industry. I thought I wasn't good enough at math, so a study in space wasn't an option and I went for a degree in Business and Management. Later in my career I discovered that space is more than just astronauts, scientists and engineers, so I went back to school and graduated from the International Space University. Now I'm an active ambassador for careers in space. My message: space has a place for everyone, regardless of study choice or personal and professional background!

Next to that: the world of space is small, but it is a very passionate and friendly sector compared to other sectors I've worked in. Most people in space share a passion and work on something bigger than themselves. I'd like to say: 'I came for the rockets, but stayed for the people'.
Can you tell us something about yourself we might not know?
As a social media specialist my world is online, so there's not much people can't find out about me. In addition to my passion for space, I have a passion for the Arctic region, and I was an Arctic expedition leader for several years, and as a former entrepreneur and researcher in tourism I wrote three books on the future of sustainable tourism. Nowadays I write other things, like papers on social media for space for the International Astronautical Congress. Also I'm the volunteer CEO of the SpaceUp Foundation and event administrator at SpaceAgenda.com.
Curious about Remco's activities? Follow him on Twitter, LinkedIn,
Instagram and his websites: Travelsinorbit.com, SpaceSide.eu
and Groundstation.Space.
---
Want to join us as well? Become part of our community member network. It's the easiest way of connecting to SBIC Noordwijk's space business network and the most affordable way of getting working space and/or professional meeting space. Read all about the advantages and possibilities: