SBIC Noordwijk, together with the EGNSS Centre of Excellence, will host a series of 4 free workshops on the topic of Global Navigation Satellite Systems (GNSS). This last workshop will focus on where you can find different Galileo data to use and how to fund your project idea accordingly.
1. GNSS data and its applications:
In the previous presentations we have seen that many reference systems are being applied to allow the appropriate corrections on the receiver level.
The information that these reference systems collect can be useful in many (scientific) applications.
We will inform you about the type of data that exist and where you can find it.
2. Funding opportunities:
Starting either a new commercial activity or scientific research often requires looking for grants or R&D projects to start.
We will give an overview of some of the European opportunities.
---
Two experts from the EGNSS Centre of Excellence will present:
Peter Dieleman (MSc) is Business Development Manager for space R&D activities at the Royal Netherlands Aerospace Centre (NLR) and as such is a member of the Business Development team of the EGNSS Center of Excellence. ESA/ESTEC and EU/EUSPA and many other space companies in The Netherlands and throughout Europe rely on NLR for R&D in space infrastructure technology and the development of applications based on space data.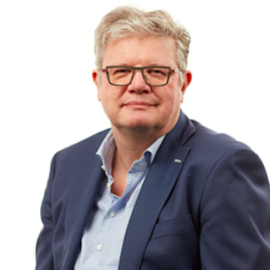 André Bos (PhD, MSc, BSc) has 30+ years of experience in high-tech projects including GNSS applications, Galileo projects (including RF signal monitoring of Galileo satellites, jamming and spoofing detection, and phased array antennas for operating under jamming and spoofing), the prognostic health management for the Joint Strike Fighter (JSF) at Boeing (WA), and numerous earth observations projects for space, maritime and land applications. He is (co) author of more than 50 scientific publications and four patents. André is one of the co-founders and co-owners of S[&]T, a member of the EGNSS Centre of Excellence.
The EGNSS Centre of Excellence (CoE) is a collective of reputable companies with extensive GNSS expertise. They support the development of GNSS applications both in the design definition phase, as well in the validation phase of these applications. The GNSS-CoE brings vast collected experience and expertise to help you develop critical GNSS applications that exploit the GNSS' ease of use and correctly compensate for their failures.
What: Workshop GNSS – Use of data & funding opportunities
Date: June 3, 2022
Time: 10:00 – 12:00 CEST
Location: online
Presentation: Peter Dieleman (NVR) & André Bos (S&T)
Can't wait to learn more about the world of GNSS? Then register via the button below: