Running a business isn't easy. This is especially true for startups, where uncertainty is the one thing you can be certain about. That's why we at SBIC Noordwijk are always trying to help wherever and whenever we can – and not just in the space sector.
In a globalized world, we already do so by visiting and organizing international hackathons, mentoring in various European ESA-BIC programmes or just attend conferences to get inspired, share knowledge and meet new people.

But let's not forget collaboration on a local level.

We see it as our obligation to not only be an active player in the province of South Holland, but also, on a micro-level, strengthening the Leiden-Noordwijk region. We do this, for instance, by rooting for the Space Campus in Noordwijk. Also we are involved in the Venture Academy startup accelerator programme of PLNT Leiden.
Learning in Leiden
For the last couple of weeks, next to be an intern at SBIC Noordwijk, I helped with the marketing and communication at PLNT. I have experienced up and close how startups worked on their value proposition, validated their ideas, worked on prototypes, analyzed customer segments and evaluate results and KPIs. I have seen them learn in workshops and seminars, and with talks with mentors and coaches. And of course I learned a lot myself as well!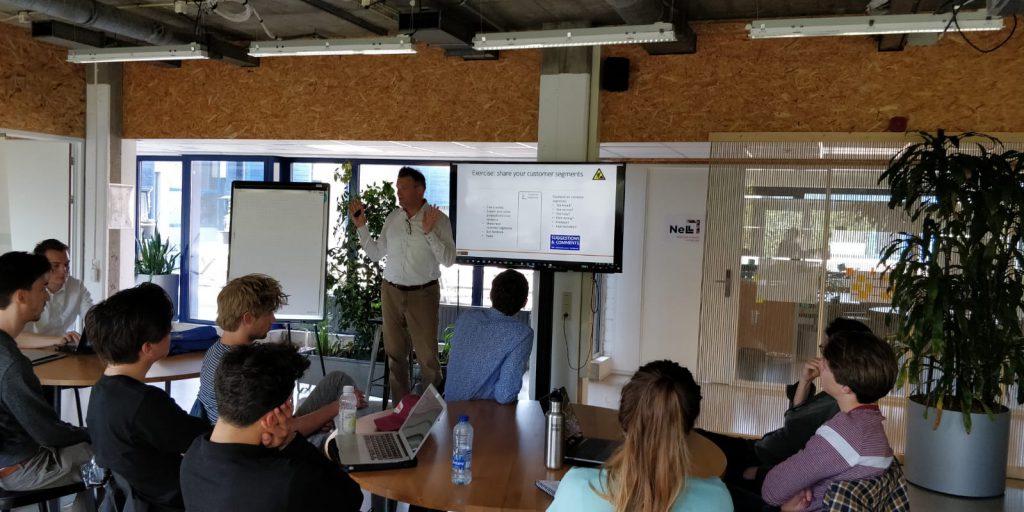 Why we do it
So, why helping more than just space startup programmes? Actually it makes perfect sense. The Venture Academy is a good place for us to have startups move into after a hackathon. When a business isn't ready yet for the ESA-BIC incubation programme for instance, they can get relevant experience somewhere else first.
From our perspective, this is an opportunity for us. 1 – We can see if startups will be stronger when they might enter ESA-BIC Noordwijk applications again. 2 – We can see if they add value to their direct surroundings. That's our role as a local hub: making sure that stakeholders in the Leiden-Noordwijk region also can profit from this kind of collaborations. Knowledge is precious, and it should benefit the direct environment it was generated.
Setting examples
We have two examples of businesses that are growing somewhere else (instead of incubated at SBIC Noordwijk), while at the same time inspire other non-space startups. ARworld combines geolocated data with augmented reality so you can design your own house and build it! And 2XBLIND collects health data with an AI algorithm to provide real-time info from patients to medical professionals so they can detect problems faster. Both companies weren't ready yet for ESA-BIC. But as I have encountered, they both are setting examples for the rest of the Venture Academy startups.

I am very glad to contribute to this program in any way. We love seeing young people take care of society as they try to look for solutions to problems. I can't wait to see them present their business in the final pitch night – and see the results of this collaboration of knowledge!