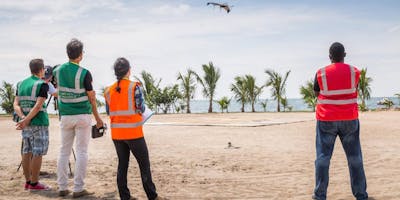 Infosession: Lake Victoria Challenge
The Lake Victoria Challenge and AI Competitions are calling for start-ups to participate. Come and share your ideas on how drones and data can help development.

Drones and Data for Development: The Lake Victoria Challenge and AI Competitions 
The World Bank is looking for startups to help figure out how drones and data can help leap-frog development – in two fields.
The first is the use of cargo drones to address the transport infrastructure gap. According to World Bank estimates, Africa needs to spend $38 billion more each year on transport infrastructure, plus a further $37 billion on operations and maintenance — that's just to sustain its current level of development. Leap-frog technologies such as cargo drones can be used to overcome this infrastructure gap, providing rural towns and villages with access to services like emergency aid, commercial goods, medical supplies and wider economic opportunities. The Lake Victoria Challenge in Mwanza, Tanzania, provides a testing ground and will allow you to showcase your UTM or drone in a real-world scenario. 
The second aspect is by using AI to automatically interpret drone or satellite imagery. The increased availability of imagery and increasingly accurate AI algorithms is pushing boundaries on real-time image understanding. We are getting closer to providing decision-makers on the ground with the information they need for post-disaster damage assessment and tracking urban sprawl in their city. In Tanzania, the World Bank is organizing a series of data challenges (such as the Open AI Tanzania Challenge) aimed at translating imagery into information for decision-makers. 
On the 28th of February, the world bank will give a presentation and answer all your questions about these challenges.